Document Control, Distribution, Approval & Management in SharePoint with Project

Ready
In the age of the cloud and digital disruption, the information and documents you need to manage are increasingly all over the Enterprise – driving content chaos. But, the way you need to manage projects, collaborate and control the movement and approval of content should always be the same, repeatable process.
ProjectReady is a leading project management & document control solution designed to end the chaos by providing a modern, process driven solution to manage project information, across the enterprise, the same way every time. Easily manage projects, tasks, resources, emails and documents from a single location and integrate your content repositories (i.e. SharePoint, Autodesk BIM 360, Box) to easily work with all your project data and consolidate the numerous silos and applications typically used on a project.
Contact Us Today to Schedule a Demonstration!
Learn About ProjectReady at: www.Project-Ready.com
---
Centrally Create, Track & Manage RFI's, Transmittals, Submittals & Change Orders
Centrally manage & create RFI's, Transmittals, Submittals & Change Orders, securely delivered inside and outside your organization for review and approval. Internal and external collaboration is made easy with on-demand delivery of documents and advanced workflows built-in to uphold standards for controlling documents and ensure conformance so that contractual demands are met.
Simplified Document Package Creation Across Libraries & Document Repositories
Simplify the assembly of document packages across systems including Autodesk BIM 360 (Learn More About BIM 360 Integration), SharePoint and File Systems with an easy-to-use shopping cart experience for searching, sorting and filtering through thousands of Project Documents and Drawings whether your content lives in your project sites, local files systems, or any content library.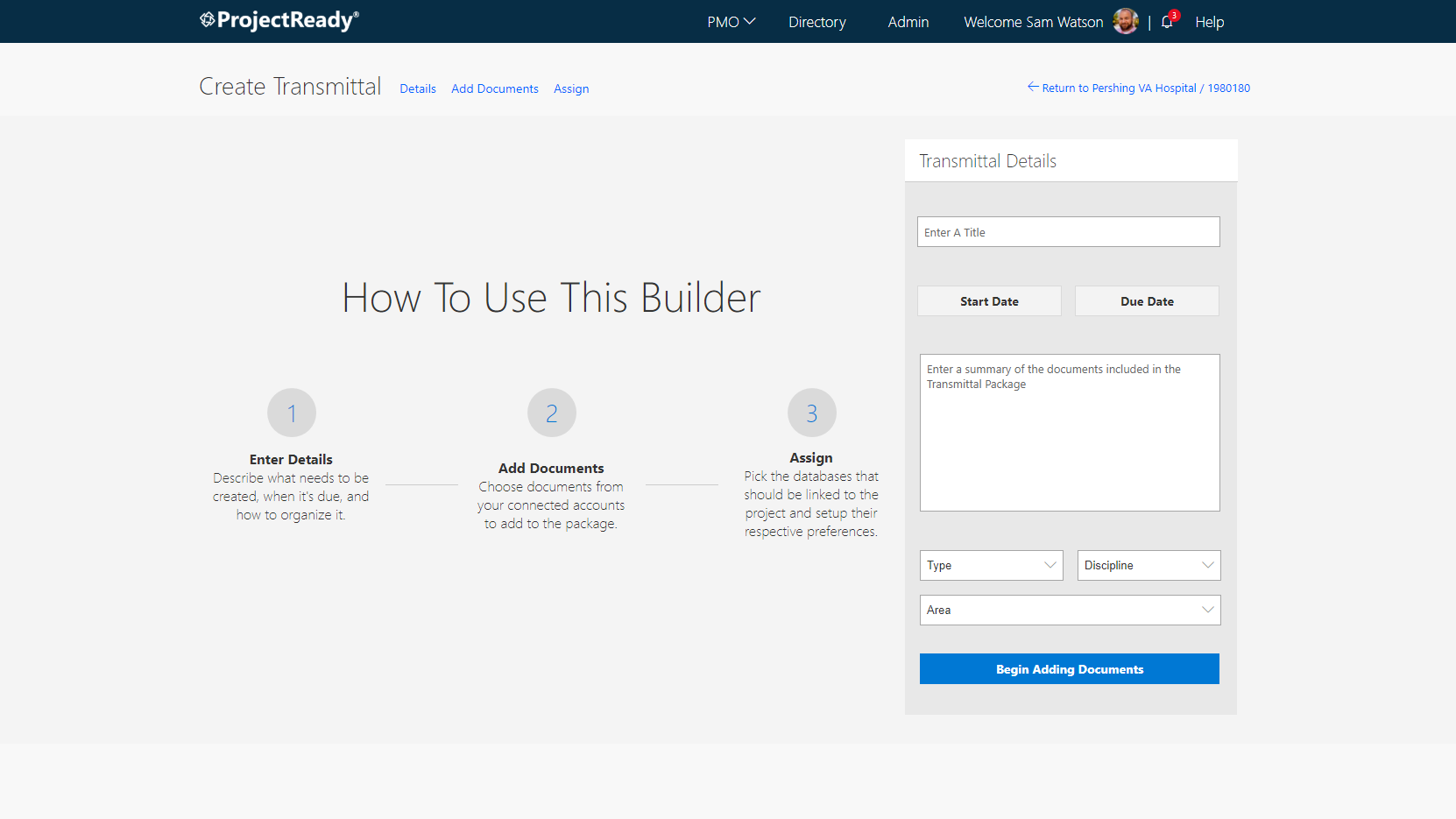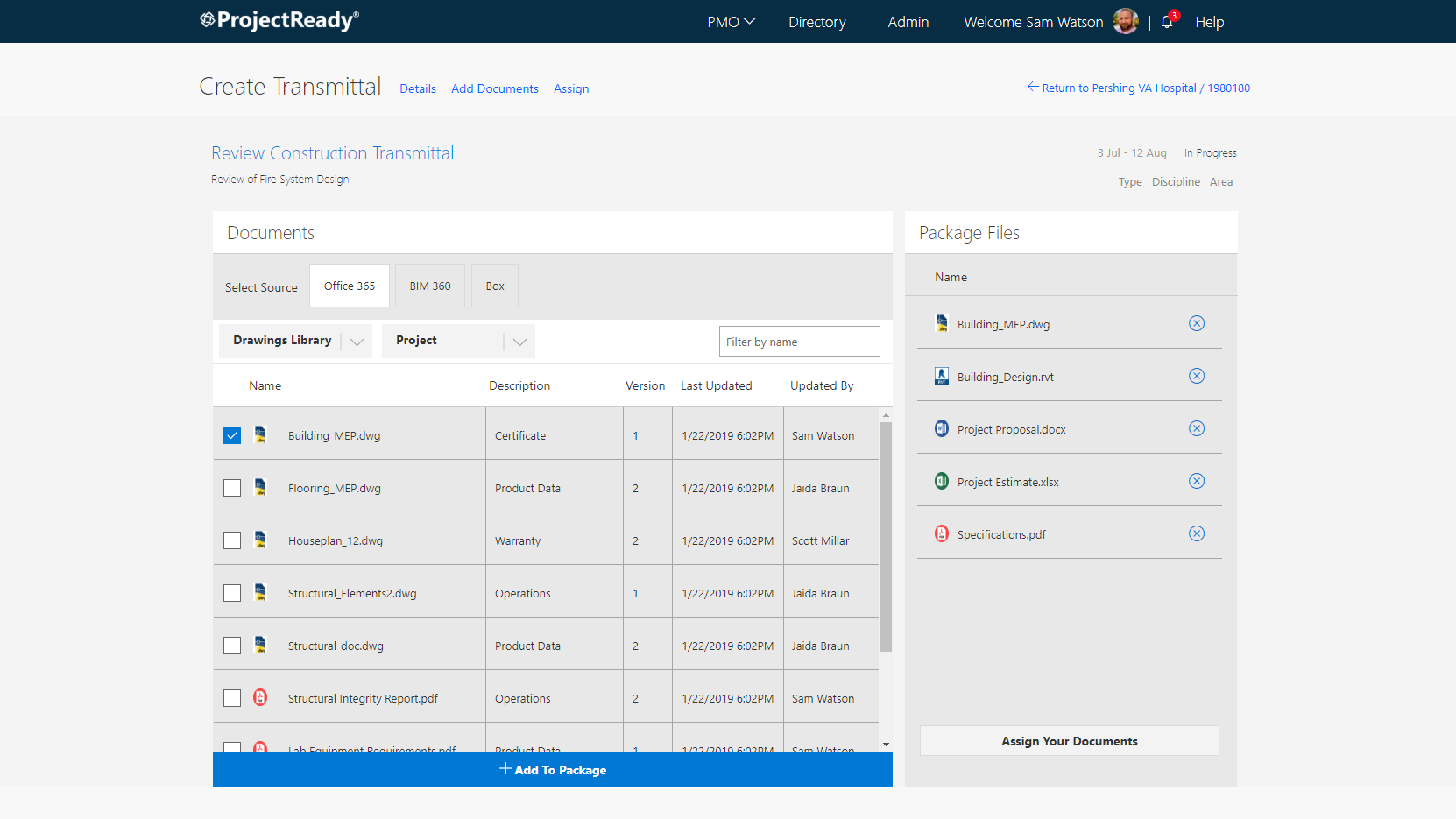 Create & Manage RFI's & Email from Outlook
Un-silo project information locked inside your email so when external vendors and clients email you a request for information or pertinent project information, you can easily create & track the RFI or tag emails to be routed as needed.
Report Across Document Communications
ProjectReady produces a robust set of automated and focused reporting – detailing the package type, status and dates of the documents that have been transmitted and to whom. Document controllers and users gain easy access to critical project info on all of the documents in and out of the enterprise.
Automated Cover Sheet Generation & Distribution
Automatically produce Cover Sheets for all document communication package including RFI, Transmittals & Submittals. This ensures an automated distributable and record of everything included in your communication.
Ensure & Enforce Uniformity Based on Best Practices
Receipt and sign-off of document communications are managed using Workflow and External E-mails all while maintaining security and governance. ProjectReady delivers flexibility & control for delivery of your content with multiple pre-defined workflow options, unlimited approver support and the ability to easily set expiration and due dates across all your packages.
Easily Resubmit and Reassemble Document Control Communications
Forgot to add a document or an approver to your Transmittal, Submittal or RFI? With ProjectReady Central, easily resubmit with the added information with no need to restart the process generating enormous time savings.
Default Permission Templates for Approvers in Document Control
Have a group of approvers you typically send your Document Control communications to? Easily save that group to avoid the re-assembling of users getting your document control communications out quickly and to the appropriate people.
Learn More About Document Control, Distribution & Management in SharePoint