The ROI & Value of Intelligent Document Creation & Assembly in the Enterprise
This white paper aims to answer common questions about document creation and outline the ROI and value of automating document creation and assembly in the enterprise.
White Paper Summary:
Every industry and business creates paperwork - forms, spreadsheets, memos, emails, and approvals. Most often, people working in different departments across the enterprise are using different systems to do so. But, what happens when they need to work together? If everyone is using different systems, how are documents easily found? How can it be pulled together? Can you ensure it's the most recent version? How can your project managers quickly get approval from multiple signatures? Is it industry best practice or regulatory compliant? And most urgently, can it be done now?
With ever-changing rules and regulations, document creation has never been more difficult. When organizations have disparate data centers – files on premises, in the cloud, and documents in multiple formats – Word, PDF, Excel, JPG, etc., the mere act of compiling the needed documentation, let alone insuring the correct audit trail and sign-off process, can be a herculean feat. Access to these files to create a coherent and compliant document within the rapidly approaching deadline adds to this daunting task. Often, reporting can reflect the same forms and boilerplates, with a few exceptions. Having to pull the same information over and over is time consuming and frustrating. For industries that must comply with FINRA, FDA, HIPPA or other regulations, the need for accuracy and timeliness is especially significant. Incomplete, inaccurate or documentation that is presented past the due date can result in audits, recalls, citations or lawsuits that could ultimately effect a company's bottom line and reputation.
Please fill out the form on the right to access
the Full White Paper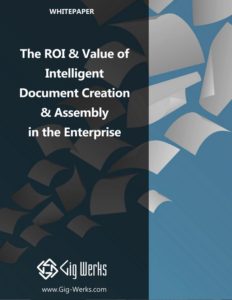 ---
Learn About Gig Werks Solutions for Document Generation
and Contract Lifecycle Management
---