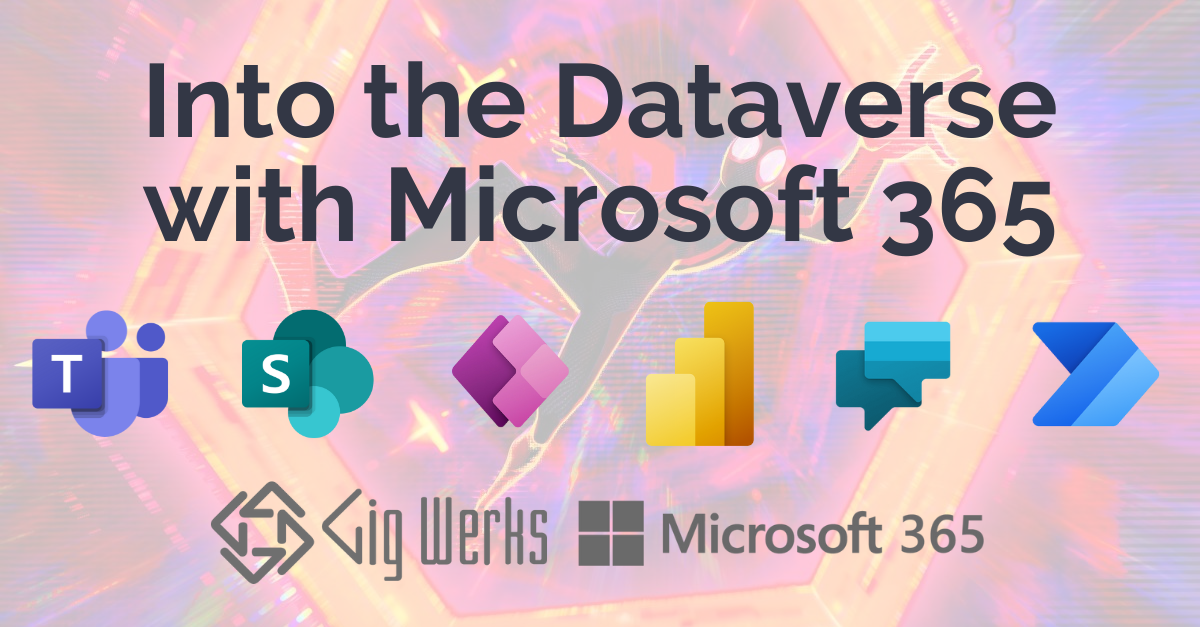 One of the biggest developments that have taken place to push the evolution of Microsoft 365 is not only the development of the tools available within the platform but just as importantly the backend which is driven by the Microsoft Dataverse.
What is the Dataverse?
The Dataverse is a powerful data management platform that allows organizations to securely store and manage data used by business applications. But what sets Dataverse apart from other data management platforms is its ability to work with any type of data and any type of app. This means that organizations can use Dataverse to gain insights and drive business decisions using data from a variety of sources, including devices, systems, services, and software as a service (SaaS).
Dataverse also makes it easy to manage and integrate different data technologies, even if they store different types of data, expose different APIs, and use different security models. This can be a time-consuming and expensive process when working with multiple data sources, but Dataverse simplifies it with an easy-to-use, scalable, and compliant platform.
Why should you use it?
While Microsoft Dataverse and Microsoft 365 may seem like separate entities, they actually work together in a number of ways to help organizations store, manage, and use data more effectively. Christian Holslin, enterprise architect and M365 expert noted in our recent podcast that, "The Dataverse let's you create a data backend on the fly for anything you need and allows you to plug into it from anywhere in the M365 stack." What makes this so powerful, is that before the Dataverse existed you needed to build out all the connection points yourself, which was very time-consuming and not nearly as seamless. Christian additionally noted "The Dataverse really underpins the entire M365 platform" making it an essential element as you look to build solutions for your business.
There are a number of benefits to using Microsoft Dataverse for storing and managing data as well as how it works together with Microsoft 365. Some of the key benefits include:
Seamless Integration: Building a business solution can involve data from multiple sources. Integrating this data into a common store (the Dataverse) allows for an easier app-building experience and a single set of logic to maintain and operate over the data. Microsoft Dataverse integrates with a variety of other tools and services within the Microsoft Power Platform, such as Power Apps, Power BI, Power Automate and Dynamics 365. This allows organizations to easily connect their data to these tools and use it to build custom solutions, such as dashboards, reports, and applications.
Building custom business applications: Microsoft Dataverse can be used in combination with Power Apps, a low-code platform for building custom business applications, to build custom solutions that are tailored to an organization's specific needs. These solutions can be accessed directly within Microsoft 365, making it easier for users to access and use them.
Connecting data to reports and dashboards: Microsoft Dataverse can be connected to Power BI, a business intelligence and data visualization tool that is part of Microsoft 365. This allows organizations to create reports and dashboards using data stored in Dataverse, making it easier to understand trends and make data-driven decisions directly from the business applications themselves.
Customization and flexibility: Microsoft Dataverse allows organizations to customize their data model to fit their specific needs, such as adding custom fields and relationships between data entities. This allows organizations to build custom solutions that are tailored to their specific business processes and needs.
Security and compliance: Microsoft Dataverse uses robust security measures to protect data, including encryption, access controls, and data masking. It also offers compliance with a variety of industry standards, such as GDPR and HIPAA.
Scalability and reliability: Microsoft Dataverse is hosted on the Azure cloud platform, which offers high scalability and reliability. This means that organizations can store and manage large amounts of data without having to worry about infrastructure or downtime
Easy to manage – Both the metadata and data are stored in the cloud. You don't need to worry about the details of how they're stored. Very different from the days of on-premise maintenance.
The Microsoft Dataverse is a powerful tool to rapidly build connected solutions with ROI across the M365 stack. Storing, managing, and sharing data within an organization lets the Dataverse drive value across a variety of business needs. Working in concert with Microsoft 365, these two platforms have the tools you need to get the most out of your data.
The Dataverse in Action with Power Virtual Agents (Chat Bots)
Power Virtual Agents is a powerful tool that allows businesses to create and deploy chatbots quickly and easily in Microsoft 365. These chatbots can be used to help customers find the information they need, answer questions, and even complete tasks which delivers a clear, measurable ROI for any chat bot solution because of the accuracy and efficiency it delivers.
One of the key features of Power Virtual Agents is its natural language processing capabilities. This allows the chatbot to understand and respond to user input in a way that feels natural and human-like. Additionally, Power Virtual Agents allows businesses to create custom scripts and flows that can be used to automate tasks such as scheduling appointments or processing orders.
Another key feature of Power Virtual Agents is its ability to integrate with other systems and platforms. This is where the Microsoft Dataverse integrated with a chat bot solution can be so powerful. Christian Holslin, Enterprise Architect here at Gig Werks, commented recently on our Dataverse podcast that "what we're hearing consistently across the board from all of our customers and prospective customers who are interested in this technology is that it's all about getting access to critical data faster. That's where the Dataverse comes in. Your critical data needs to be in a critical space where it's secure and safe, easy to access." That is what the Dataverse is! So now you have one repository that connects to all your systems and seamlessly then integrates with your chat bot to deliver information instantaneously.
We invite you to check out our latest podcast to hear more about the Microsoft Dataverse as we take an in-depth look at the Microsoft Dataverse, the platform that is revolutionizing the way we work with data. Our experts discuss the powerful features and capabilities, including data integration, data management, and automation. You'll learn how the Dataverse with Chat Bots can help you streamline your business processes, improve data accuracy, and help you gain valuable insights into your business. We'll also discuss the clear measurable ROI that solution holds.